All Items
>
Branch Level Jack
>
[Product defect] [only 1 pcs] Masakuni Branch leve Jack small "Weight 1650g" No.M24
[Product defect] [only 1 pcs] Masakuni Branch leve Jack small "Weight 1650g" No.M24
<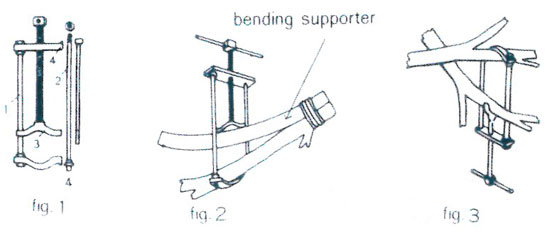 Masakuni level jack small No.M24

Length : 300mm

This has been in stock for a long time .Therefore this get rust just a litte.The box is also ,too.

Therefore, only this one is 20% discount.

Usual price : 83,000JPY

Only this one : 66,400JPY

 

(Using the Jack)

Like the levers, the jacks too come in large size (No.M23) and small sizes(No.M24).The small one is for use on branches with diameters of about two and one-half inches, the large one for branches about three and one-half inches in diameter.First,disassemble the jack as shown in fig.1.Rod 2 reinforces the frame and makes possible the movement of part 3.Although the nuts at the ends of rod 2 require only light pressure to turn, they must fit in the groove at 4.Oiling parts that come into contact before use makes for smoother operation.The jacks and the levers are designed to be used together in the correction of bonsai limbs and branches chart 1 chart 2 chart3.